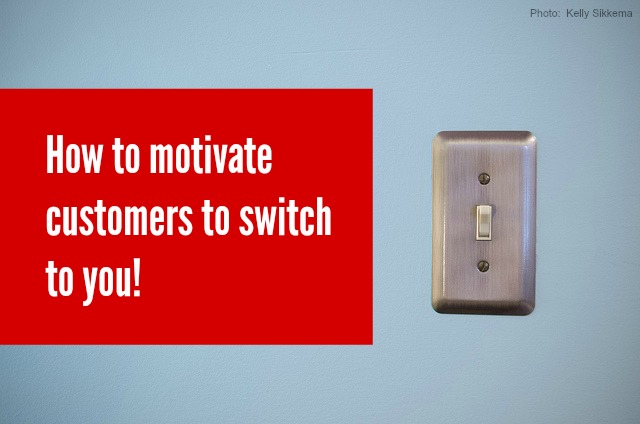 How easy is it, for a new client or customer to switch to you?
Many business owners make a very good case, for switching to them from your current provider. They get prospective clients and customers fired up. Motivated. Money in hand… however, they make switching to them too painful, so they lose the business.
Here's an example of what I mean, based on my own situation right now.
Microsoft Surface Pro 3 and my pain
I've been considering switching my main production computer, from a Mac to a Microsoft Surface Pro 3 machine. I'm a Microsoft guy and have been since Windows 3.0. However, last year I bought a MacBook Pro and fell in love with it. I went on to buy the MacBook Air I'm writing on right now, plus a desktop Mac. I love the Apple hardware, but miss having a touch screen computer. I also miss all the software, which is available only on Windows.
The problem I have, is there's a lot of pain involved in switching to Surface Pro 3.
For example:
I've invested thousands in Mac hardware and software over the past year. This will be largely unused if I switch. As a result, there's a lot of pain associated to relegating the equipment. If I sell it I'll lose a fortune. If I keep it, it will just sit there depreciating in value. Ouch!
I have all my files in Apple's format. The pain of converting file formats is considerable.
All my peripherals are Mac. So, I'd need to buy everything again; a Surface Pro keyboard, compatible external hard drive, stylus, shoulder bag, etc . There's hundreds in additional costs there, adding to the financial pain.
Then, I'd need to invest a day of my time, setting the new device up and connecting it to all my accounts etc. My time doesn't come cheap.
… and there's nothing meaningful that Microsoft do, which comes close to helping me (or anyone else) with all that pain.
So, instead of switching to the new device being a simple decision, I'm probably not going to do it. I'm too locked into the Apple universe now. I don't dislike Macs. Far from it. I just really like the flexibility of the Surface Pro 3. Yet, it seems Microsoft are unlikely to get my money. Switching is just too painful.
In addition, Microsoft miss out on a massive amount of ongoing, free publicity, as I won't be blogging about my experiences with the Surface Pro 3, on one of the world's most popular marketing blogs. With a significant audience of business owners, I'd have been worth a fortune to Microsoft, and at a time where they really need to get business owners interested in them. More importantly, it's entirely likely there are customers you have missed, who could have helped your business similarly, but they were not prepared to pay the price for switching. Think about that for a moment.
Where's the pain in switching to you?
This raises 2 important questions for you and your business:
What are the pain points a new client or customer will encounter when switching to you from their current provider?
How can you reduce or eliminate their pain?
By focusing on making the transition to you as painless as possible, [then communicating that clearly], you massively increase your chances of winning new customers.
Consider the whole picture
Even if there's an upfront cost associated to you making the process painless or less painful, weigh the cost against the lifetime value of a new customer. Sometimes, a short term cost can turn into a hugely profitable investment.
If you already have processes in place to make it easy for new customers to switch to you, make sure you are getting that message across. Explain that switching to you is a breeze — that your team will handle the process, etc.
In short — Find the pain involved in switching to you and work hard to reduce or eliminate it. Then, make sure prospective customers know!