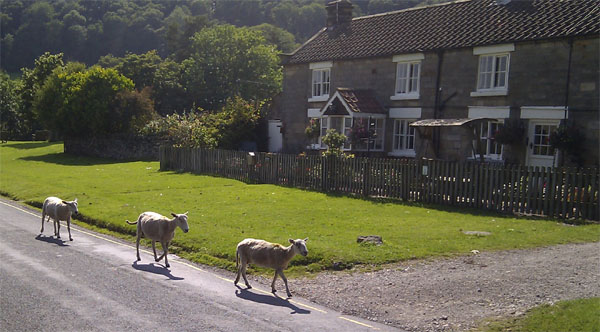 Every time you follow the flock, you become a little more invisible.  Now, if you are trying to avoid being noticed, that's a very useful tactic.  However, if you are a business owner seeking to attract the attention of your marketplace, it's not such a wise move.
Fear as your compass
The more of your original self, which you incorporate into your marketing, the more visible you become.  The challenge here, is that it takes a lot of courage to be yourself and express your own opinions.  It's far easier to do what the sheep do, by saying nothing original and adopting the beliefs and opinions of the rest of the flock.
In my experience, those who express themselves honestly and those who are too fearful to express what they believe, both use fear as their compass.  Where the difference comes, is in the way they navigate with that compass.
Those who feel the need to; join the tribes, use the buzz words, offer "me too" opinions, follow the gurus and express only what they believe will not be challenged, use the fear as a control to stop them expressing their unique opinions.
Those who lead the tribes, are copied and respected by the gurus and who express our true opinions, use the fear as confirmation to proceed and do work that matters.
In every case, my greatest victories came when I felt the fear and did it anyway:
Setting up my business.
Resetting my Twitter account to zero in February 2009, when I was one of the top 50 most followed people in the world on Twitter.
Deciding to leave London and move to a beautiful village in the countryside, leaving a great, 6 figure marketing business behind me.
… You get the picture.
Your compass.  Your choice
If you believe something you want to do or say is right, yet you are worried that people may disagree with you or question you, you have 2 options.  You can either pull back and get in line with the sheep or you can use that fear as a compass, to guide you into your own unique position in the marketplace.
If you lack visibility right now, I strongly suggest you consider the second of those options.  It might just be that turning point you have been searching for!
Let's grow your business!
I can help you build a more successful business, increase your sales and boost your profits. To find out how,
read this
.