Very rarely, I 'highly recommend' a blog or podcast, which I believe you will find extremely useful. I'm happy to say that today is one of those days!
The Marketing Over Coffee Podcast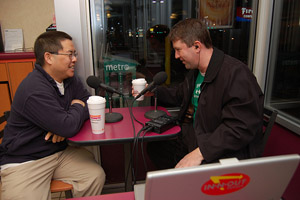 I strongly recommend you check out  the Marketing Over Coffee podcast, by Christopher Penn and John J Wall. The podcast looks at marketing related stories and provides common sense ideas and tips, covering all areas of marketing.
The hosts are experienced, respected professionals, with Christopher Penn an adjunct professor of Internet Marketing at the University of San Francisco as well as being co-founder of the PodCamp movement. John's services have been employed by some of the world's most respected companies and his work has featured on many US and international news outlets.
Insightful and entertaining
As the name suggests, the podcast is recorded over coffee at a Massachusetts coffee shop. The conversational style of the show and the obvious rapport the guys have, often makes Marketing Over Coffee as entertaining, as it is informative. It's a balance that's hard to pull off but these guys manage it beautifully.
Shows typically run for a little over 20 minutes and past guests have included Seth Godin and Simon Sinek. You can subscribe now via iTunes or any of the options on the Marketing Over Coffee blog. I can't recommend this podcast highly enough and strongly suggest you subscribe now, to find out why.
Photo Credit: Marketing Over Coffee
Let's grow your business!
I can help you build a more successful business, increase your sales and boost your profits. To find out how,
read this
.