There is a success factor behind every great business, which you can implement starting today. It can be summed up in just 4 words.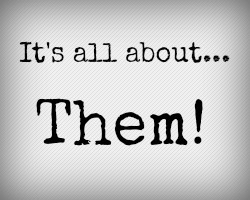 It's all about them!
The most successful business owners have figured it out. They consistently look for ways to be of greater service to their clients or customers. They know that their own success is always going to be an extension of what they do for their clients.
As the late Zig Ziglar used to say:
You can have everything you want, if you will just help enough other people get what they want.
Why the me, me, me approach doesn't work
The least effective business owners are focused on what they can get from their clients or customers.
They talk about maximising client yield – as if clients were cash cows that needed to be milked. They talk about closing the sale, rather than opening the relationship. That approach comes across in everything they do. Their client or customer retention is poor and they get few referrals from their clients, because we don't recommend greedy, self-obsessed people to our friends.
Some ideas for developing the 'them' approach to business
It starts with an understanding that it's all about what you do, not what you say. Every business owner claims to be client focused. So, you need to demonstrate that you are passionate about the success of their business.
For example:
Keep in regular contact and if you find they have a problem, offer to help.
Help them make connections. Think of people you know, who you can introduce them to – then do it.
Take a little time out every day, to find a way to help one of your clients. It can be something as simple as sharing a useful blog post or newsletter article.
Find something you can add to the service they pay you for, which has a low or zero delivery cost to you – then give it to them for free.
Keep your promises. Surprisingly few service providers can be totally relied upon. Become one of this rare group and your clients will notice (and tell their friends).
 Let's work together and grow your business. To find out more click here!
I specialise in helping small business owners to make massively more sales and boost their profits. To see how I can help you and your business,
read this now.
Latest posts by Jim Connolly (see all)