Once, the proximity of your business to your prospective clients, was based on your geographical distance from them. Your clients or customers were those you could service, based on their physical distance from you.
That has all changed.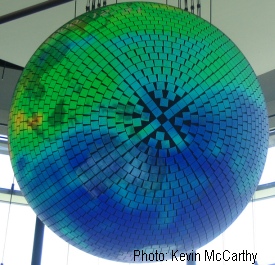 The new proximity
Today, the proximity of your business is not defined by how close you are in miles from a prospective client, but how closely you are aligned with their thinking and values etc. If you want to hire someone because their work is amazing – thanks to low cost (and no cost) global digital communications, you can. Geography is no longer a barrier for many service providers. Today, it's about that human proximity.
For example:
If you need a copywriter and there's one whose work you love, but he's 5000 miles away, no problem. You can work together just fine.
If you need a CV or resume written, you can pick the writer you like the best, no matter where they are located.
If you need a graphic artist and find someone who does great work, the fact they are in a different country makes no difference.
If you need someone to translate your book from English to French, you can pick a translator who you trust, regardless of where they are.
If you need a great web designer and you find someone, but she's in a different country, you can work together just fine. I'm in the process of having this site redesigned and my designer is on a different continent!
In 2012 alone, I worked with clients in; 6 U.S. states, South Korea, Canada, South Africa, Italy, Dubai, The UK, France and Germany. All of whom I shared proximity with, although I am located in England.
Are you embracing the new proximity?
So, with proximity now being defined by shared mindsets, aligned outlooks, common values and the love of another person's work – what are you doing about it? If you offer a service, which can be delivered via digital communications, I strongly recommend that you consider embracing the new proximity.
There's a world of opportunity out there, just waiting for you.
Do you already work with people, who would previously have been outside your geographical area? Do you have any tips or suggestions, for people considering it? Please share your thoughts eith a comment.
 Let's work together and grow your business. To find out more click here!
I specialise in helping small business owners to make massively more sales and boost their profits. To see how I can help you and your business,
read this now.
Latest posts by Jim Connolly (see all)