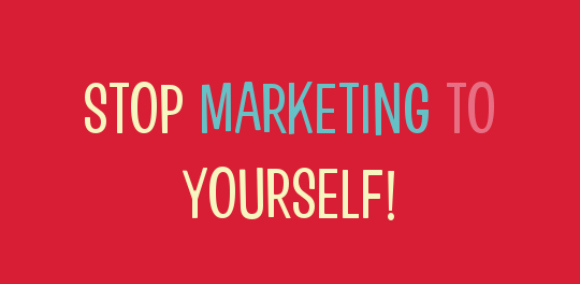 Are you selling to yourself? That may seem like a silly question, yet it's one of the most important questions in marketing.
Why? Because business owners tend to market their products as if they were selling to themselves — when they should be marketing to their prospective clients or customers.
Now, if you are a lawyer and your prospective clients are lawyers, that works fine. However, if you sell to people whose needs and wants are different to your own, you need to change your marketing so it's focused on them.
For example:
Read the marketing of most accountants and you will find lots of statistics and graphs. This is what accountants love, but not their prospective clients. The prospective client wants to know what the accountant can do for them and their business. They want to know why they should hire this accountant and not an equally qualified competitor. They want the story behind the stats.
Read the marketing of most web designers and it's filled with jargon and buzzwords. They talk about things like; HTML5, Java, CSS, standards compliance and responsive design. These are things designers love to talk about, but not their prospective clients. Their prospective clients want a professional looking site. They want a site that is an asset to their business.
Anyone using that approach is leaving money on the table. Don't let it happen to you.
Match your message to their wants and needs
Take a look at your marketing messages, from your prospective client's vantage point. If possible, ask a prospective client to read your marketing and tell you what it says to them. Determine if you're marketing based on what they need to hear or on what you think is important. Also, check to see if you are using their language or yours. Sometimes we get so used to industry words, that we forget they are meaningless and confusing to everyone else.
The better you communicate how valuable your services are, the easier you will attract more, great clients or customers.
Recommended Reading: Here's another good reason not to use buzzwords in your marketing.
Remember -- if you'd like some help with your business or a project, you can Pick My Brain for the answers and ideas you need. This service is [literally] guaranteed to help you. You can find out more here.