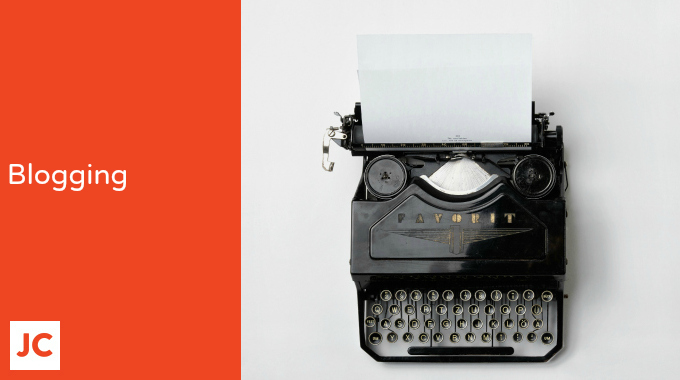 People often ask me about the hardware and software I use for blogging. So, here's a list of what I'm using right now, all of which I highly recommend.

Blogging software
WordPress is the most comprehensive and best supported blogging software out there. A recent study found that 19% of all Internet traffic comes from WordPress. It's easy to see why. I find it easy to use, reliable and flexible.
Email software
More people read this blog by email, than read it online. To deliver those emails to my subscribers, I use Mailchimp. Mailchimp has 2 things that I value. Firstly, the service is exceptionally reliable. I switched to Mailchimp in 2012 and have had only 2 issues with the service. Secondly, Mailchimp is very good at making sure my emails get delivered. Email service providers trust Mailchimp, because Mailchimp is not very friendly to spammers.
Unlike everything else on this list, I recommend Mailchimp with 2 caveats. Whilst the service is extremely reliable, I have found their customer service, on the odd occasion I've needed it, to be poor. It may have improved, as it's years since I needed help from them. Also, their software is not very intuitive, both for designing email templates and accessing data from your subscriber lists.
However, once you have set Mailchimp up, it "just works". I've sent millions of emails via Mailchimp, without an issue. Because of the exceptionally reliable service I get from Mailchimp, I have included it in the list.
Blogging hardware
There are 2 devices I use:
For remote blogging [blogging on the road, from a coffeeshop etc.], I use a Surface Pro 3. I take lots of handwritten notes and it lets me write them directly onto the screen. Then, when it's time to write a blog post, I use split-screen; so I can see my handwritten notes as I type into WordPress. My MacBook Pros and MacBook Air lack a touch screen for handwritten notes. If I use them, I need to bring a notebook and pen with me too.
[See update below] Most of my blogging is done from my office or my studio. All of this work is done using a MacBook Pro and MacBook Air. Their keyboards are better than the Surface Pro keyboard. The MacBook screens are larger too. Also, the OSX operating system is more mature and reliable than Windows 10, which remains a work-in-progress. These beautifully designed devices offer a professional grade writing experience. I write on them all day every day and can't praise them highly enough.
Hosting
I spent years trying to find the right host for this blog. Then, around 6 years ago I gave Webfusion a try. Initially I used their VPS hosting, which was fast and reliable. I then upgraded to a dedicated server with 24/7 phone-based tech support. Regular readers will know that this site suffers with almost zero down time, which is exactly what I want. After years as a happy customer, Webfusion offered to sponsor my hosting. I don't get paid to write about them and I am not an affiliate of theirs. I recommend them because I love the service I receive.
NB: None of the links in this post [or in my blog] are affiliate links.
Note taking software
I take notes every day, not only for blogging but for capturing ideas in general. I've tried lots of software over the years and the following 2 programs are the best I've found by far. They are OneNote and Evernote.
Both are a little tricky to get used to, but between them they do everything I need. I find that OneNote works best if you like to write with a stylus onto the screen. Evernote works best if you type your notes. Both Evernote and OneNote work on all leading mobile and desktop operating systems.
Note taking hardware
I like to walk regularly and like many people, that's also when I get many of my best ideas. I know some people who write their notes down whilst walking, but I prefer to record mine. I previously used dedicated, digital voice recorders. Today, I use my iPhone and its built-in voice recorder. The sound quality is extremely good and as I always carry my phone with me, it means I always have a voice recorder with me.
Old school note taking hardware
As some of you will know, I also enjoy taking notes with a fountain pen. I have quite a few fountain pens, with my current daily pen being the Lamy 2000. There's something enjoyable about the tactile experience of writing with ink on paper. At the end of a fountain pen note taking session, I use my iPhone to scan the notes directly into Evernote, using the iOS app. It works extremely well and allows me to access all my notes, all the time.
I hope you find this list useful.
Update: Blogging hardware
Since writing this, 2 things have happened, which have changed my blogging hardware recommendations. Firstly, I was asked to try and use an iPad for on-the-go blogging. Secondly, I had a chance to use the Surface pro 4 Type Cover.
Here's the update.
I was challenged by a reader as to why I didn't use my iPad for blogging on-the-go. I think it's because I mainly treat my iPad as a consumption device. Anyhow, Alison asked me to try it. Just prior to that, my friend Shahid had me wondering the same thing. Shahid pointed me to a post by Federico Viticci. Federico is a well known podcaster and Apple blogger. He not only uses an iPad for his blogging. He does almost everything, other than video production, with his iPad. You can read Federico's experiences, here.
So, inspired by Alison's challenge and what Federico managed to achieve, I decided to try and write this week's posts using an iPad Air 2 and an Apple wireless keyboard. I had 2 posts to write for this blog and 2 articles for my creative thinking website. In honesty, my expectations were low, however it worked.
Until Alison told me, I was unaware that the iPad Air 2 was able to do full, split screen. This was a key reason I used the Surface Pro 3 for blogging. I find split screen is really useful, for example, when writing a post and researching an answer using a web browser. Whilst split screen is a recent addition to iPads, the number of apps it works on is growing. Importantly for me, it includes almost everything I use for blogging.
I also discovered that the Apple wireless keyboard works perfectly with the iPad. This was the keyboard I used all day every day. It's my favourite keyboard. I have a little arthritis in my hands and yet, with this keyboard I can write all day without any pain. Most other keyboards, including those on my MacBooks, quickly get uncomfortable. So, I am now able to use my ideal keyboard and an iPad, to create a very productive, lightweight way to blog on-the-go.
Steven Woodgate from Microsoft kindly sent me a Surface Pro 4 Type Cover and it's a huge improvement on their previous effort, including the track pad.
After writing this post, I tested the Surface Pro 4 Type Cover keyboard thoroughly for a whole day's worth of heavy writing. To my delight, I found it to be more comfortable to write on than my Mac keyboards and on a par with the superb wireless Apple keyboard. It's brought a whole new lease of life to my Surface Pro 3.
As I mentioned in the original post, I like to handwrite notes onto the screen. Whilst handwriting onto an iPad Air 2 screen is possible, it's not as elegant as using a Surface. So for note-taking sessions, I leave the iPad at home and take the Surface.
Battery life is a big issue when working on-the-go. The iPad's superb battery life means it's great if I need to be away from external power for a whole day. The Surface Pro 3 lasts around 5 hours, unless I crank the brightness down. That's often enough, when it isn't, the iPad steps in.
In closing, I am now using my iPad Air 2 and Surface Pro for blogging on-the-go and using a MacBook Pro / Air and Surface Pro  when in the studio or my home office. Microsoft's Surface Book could be a better 2-in-1 alternative. I used one for a couple of hours last week and the screen and keyboard are exceptional. However, with a price tag of £1800 for a good specification Surface Book, it feels a little risky [to me] for a piece of 1.0 hardware. If I get a Surface Book or a Pro 4, I will review it for you.