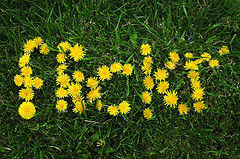 Over the past few months, I have used flickr for all the post images here on the marketing blog.  There are millions of great pictures available and it's extremely easy to use.
However, I have recently noticed a growing problem, which is changing how I use images from flickr and other image sites.  I want to share this with you, along with some brief information on the kind of images and photographs you can use on your blog / website.
Out of the picture
Until now, I have gone to flickr, picked the image I want to use and simply linked to it – So although you see a photograph here on the blog, the image itself lives on flickr's servers.  The benefit to me of this approach, is that I don't need to upload images or compress them before I use them.  I just enter the URL of the image into WordPress, and I can then place it wherever I want. Equally, when my blog was hosted on a slower server, the pages tended to load quicker when the images were hosted on flickr.
The downside of linking to images, rather than hosting them on your own server, is that the images you link to can be, and are, removed without warning.  As a result, I often see posts I wrote a while ago, with images missing.  So, I have decided to go back to hosting images on my own server and I am now recommending people to do the same; unless they have a good reason not to.
Regarding the use of images on blog posts, there's something else a lot of people ask me about, which I would like to mention.
Image licenses: A quick reminder
Posts often look better with a nice image, so it's often a good idea (especially if you write long posts) to break your posts up with appropriate pictures.  However, before you use an image, always check if you have permission, first.  Many people seem to think that they can just copy any image and use it, when this is totally incorrect!  For example, the images you see on news sites are often the property of agencies like, The Associated Press or Getty Images and are not available for free use.  Others images are available under a version of Creative Commons and can be used for free, but only under certain conditions.
The images I use from flickr, for example, are licensed under a version of creative commons, called; Creative Commons Attribution.  This means the images can be used without cost, however, you must give attribution to the photographer.  It's only right that you give the photographers, whose images you use, full credit for their work.  Giving attribution also allows your readers to discover the photographer's work.
What tips do you have for using images on blogs or websites.  I'd love to hear them!
Let's work together and grow your business. To find out more click here!
Image: Zanastardust