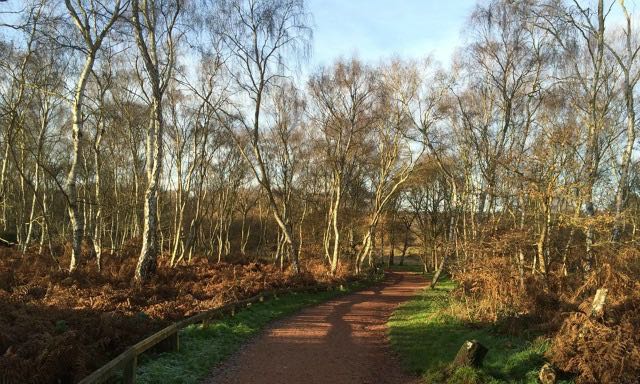 Hard work. Meeting deadlines. Overcoming Challenges. Delighting customers and clients. These are just part of what it takes to create and grow a great business.
As our passion for business drives us forward, it's extremely important to make sure we're not neglecting our health.
Look after your body
It makes no sense to grow a successful business, if the price you pay is that you damage your health. I discovered this the hard way.
My story: As my business grew increasingly successful, I found myself getting heavier and less fit. Although my diet was good, plus I don't drink any alcohol or smoke, I'd been spending more time at my desk and less time outdoors on my bike, walking or hiking. Lesson learned.
I was fortunate enough to turn things around before any real damage was caused. These days I make sure to cycle or walk daily. The photo above is from my walk yesterday, in Sherwood Forest. I'm physically and mentally fitter than I have been in years.
Here's the thing: It's easy to get unhealthy or pile weight on if you get the balance wrong. Work hard, sure, but make sure you rest too and look after your body. Take heed of your diet and get yourself out and about every day, no matter how busy you are. Walk. Cycle. Dance. Swim… whatever you're able to do.
Look after your mind
Business can be stressful regardless of how well or how poorly a business is doing. This is why it's vitally important to ensure that you get the rest you need, the time with family you need and the relaxation you need.
Yes, I could earn a lot more if I were to work longer hours, but the money is massively less valuable to me than a great relationship with my family and peace of mind.
[Worth a read: Here's what my working week looks like – Just 5 hours a day.]
I have always believed and advocated the following: Money without happiness… you're still broke!
If your business model means that you work too many hours and place too many demands on yourself, it's time to stop and find a better strategy. Overloading yourself with work isn't sustainable. It leads to all kinds of problems, which you can avoid if you decide to do something about it.
And finally
Never take health or fitness advice from someone who isn't qualified.
My friend Sam became extremely ill, from eating liquorice root to help with his eczema, after reading a health and fitness website. Sam wasn't aware that liquorice can cause dangerously high blood pressure. It was only when he was rushed to hospital and his wife answered a questionnaire about his diet, that a doctor spotted the problem.
Always speak with your doctor before you make any significant changes to your diet and before you start exercising. Your doctor will know if what you're proposing is in line with what your body needs.
I hope you found this useful. More importantly, I hope it inspires you to look after yourself.