Does your business have a slogan associated with it?
If it does, I have a question for you: How closely does that slogan reflect the reality of your business?
Words are easy
For example, the businesses in every niche claim to offer outstanding customer service, yet this is factually incorrect. If they really DID offer outstanding customer service, the fact they ALL offered it, means it would not stand out. It would be, by default, average. To be outstanding, they would need to crank it up a level (or more) higher than their competitors.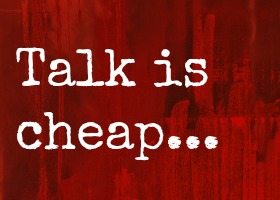 Other business owners have slogans saying they; try harder, go the extra mile and care more – usually without even knowing how hard their competitors work, how dedicated their competitors are or how much their competitors care.
Making claims about how great we are is easy. It's simple. It's just words. It's also largely ineffective because so many people are doing it. What's needed is a different approach.
Action takes courage and effort
The smartest small business owners have already figured it out. They know that success comes from being so good, that their clients are the ones making the claims and doing all the talking. They build a business worth talking about, with a story worth sharing.
Average business owners try to get more word of mouth referrals, for an average service, which their clients are not telling people about.
The most successful business owners focus on being remarkable, so their clients remark (talk) about them.
It requires courage, creativity and effort to deliver an experience, which is so good that people want to talk about it. However, the rewards are huge.