There's a lot of information on this blog about things you can do, which will help you dramatically increase your sales results and profits.  However, it's ALSO really important to know some of the things you must avoid, if you want your business to succeed. That's because some marketing mistakes can nullify all your hard work and actually set you and your business way, way back!
Common marketing mistakes 101
This post contains some of the most common and damaging mistakes I see people making with their marketing. I hope that through the comments section, you will share some of the common errors you see people making too! Here are a few, in no particular order, to get the process rolling:
1. Failing to differentiate their product or service
One of the hardest things to sell, is a product or service that looks to be 'about the same' as hundreds or thousands of alternatives.  It's hard to stand out and grab peoples imagination, when you seem to offer 'just the same' as a stack of other providers.
For example, the Internet is filled with people offering coaching or consulting services that look identical to each other. They offer a service that sounds the same, to the same potential clients, with the same kind of promises and THEN market it in the same kind of way as each other! The net result is that EVERY PENNY they spend on marketing is being cancelled out, by the thousands of other people who are doing the same things.
The problem here, is that some of these services are outstanding and others are rubbish! However, because they all seem so similar and promise the same results, it's impossible for a prospective client to tell one from the other.
If you want to make sales all day long, break away from the pack and BE YOURSELF!
Develop your own unique voice and use it to show the VSP (Valuable Selling Proposition) you bring to the marketplace. If you can answer the following question, and then communicate it effectively in your marketing, your sales will sky-rocket immediately;
"What genuinely compelling reasons are there, for someone to become a client of mine; rather than one of my competitors?"
For example, I answer this question by offering a marketing service to small businesses; which gives them unlimited access to me for a whole year, for a small, single, capped fee!  We have regular marketing meetings all the time, so my clients can plan ahead with total peace-of-mind; with me as their virtual Marketing Director and advisor.  Also, if they get a problem or they just want to kick some ideas around, they can call me whenever they want.
YOUR answer to the above question must be non-generic.  In other words, it's not enough to promise great customer service or to promise to go the extra mile for your clients – everyone promises that – even those who don't provide it!  Your answer has to be something that makes it super-attractive to become one of your clients.
2. Relying on pedestrian copy writing to sell their services
Most smaller businesses tend to write their own marketing copy – and the results are often shockingly poor.  For example, it's not uncommon for a small business to pay a fortune for a great website, and then write the wording for that site themselves!  As a result, they find that people who visit the site don't fill in contact forms, click links, email them or call them.
That's because pedestrian copy writing simply INFORMS people – without inspiring or motivating them to take action!
If you want to dramatically increase the number of sales or leads you get from your; website, blog, advertising, mail shots or email marketing – get your marketing written by a professional!
3. Focusing on the size of their network, rather than it's value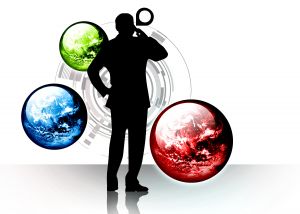 You have seen them, the people who attend EVERY local networking event and eagerly thrust business cards into as many people's hands as possible.  They then ask the stranger; "So, tell me how I can help you" …. just like their 1980's networking manual told them to!
OK – that's one way to build a network.
Here's another!
My former client, Susan, is a marketing consultant to small businesses.  She decided to do as I suggested and stopped attending every networking event in town.
I got Susan to shift her focus from the typical 'numbers game' approach to networking – To focusing on quality and influence instead.
I got Susan a list of the 10 main accountancy practices (or CPA's) in her region; who between them, look after around 35,000 local businesses.  Susan then decided that these would be her 'network'; as they had the potential to provide her with more high quality clients than she could ever need.
I suggested she attended some local lunchtime events sponsored by these people and to use the opportunity to set up meetings with the senior partners of each firm.  After attending just three events, Susan had meetings booked with each of the people who would become her new network.  She did her homework and focused on what she could do for them and their clients.
Six of the accountancy practices were just not interested.  But she DID manage to form a great relationship with the other four practices and she now has a client-base full of top quality clients.
The bottom line: A network of 30 well-connected, influential people is vastly more commercially valuable and easier to manage, than a network with 300 contacts who lack influence or reach!  As human beings we are obviously all of equal value, but in the marketplace, some people are massively more influential than others.
4. They don't show everyone how brilliant they are!
The information most small businesses and entrepreneurs put on their websites, blogs and in their newsletters, is usually a watered-down version of what they are actually capable of.  They fear that if they give too much away for free, people won't pay them for 'the good stuff'.  This is a SERIOUS mistake!
Why?
Because if you don't let people see how great you are until they become a client, how are they supposed to find out?  If you only have a diluted version of your work available for free, that's what people will associate you with.  You have to let everyone see the value you are capable of providing. I know you are great, you know you are great – now let 'them' see how great you are!
I am not talking about giving it ALL away.  I'm simply suggesting that you make sure that there is real, genuine value in what you decide to put 'out there.'
OK – What are the most common marketing mistakes YOU come across?
Here's your chance to share the most common marketing mistakes you see small businesses making. If you can offer a solution too – please do!  I want to make this post as valuable as possible.
Let's grow your business:
I can help you build a more successful business, increase your sales and boost your profits.
Here's how it works
.