7 days ago, I set myself an interesting challenge. I wanted to see if a small business owner could use the free, Ubuntu operating system and the free software available for it, for their business related tasks. If they could, it would be great news for business owners on a tiny budget.
Many small business owners really struggle to afford software, such as Photoshop and Microsoft Office. Equally, not every business owner can afford new hardware, and Ubuntu is known for making old computers run fast. You can download Ubuntu for free, from here.
So, for 7 days I did every business activity using Ubuntu Linux and some of the hundreds of thousands of free programs available for it.
Here's what I found.
Setting up Ubuntu 13.04
Setting up Ubuntu on both a new, Windows 8 notebook and a very old, very low powered netbook, was extremely simple. The installer was easy to use and fast too. The notebook I used for this was a Samsung NP300 series. The netbook was a 5 year old Samsung NC10 – it also had no problems installing and running Ubuntu 13.04.
For those who have not seen Ubuntu before, below is a screen shot of what my work desktop looks like. The look and feel of Ubuntu 13.04 is a lot closer to Mac OSX than Windows, as you can see.
Getting the programs and apps I need
Once the Operating System was installed, I set about looking for the programs and apps I needed. As a marketing mentor and blogger, the main apps I use on my work machines are; Outlook, Word, Skype, Twitter, Evernote, Picmonkey and iTunes.
Ubuntu email options
I replaced Outlook with Thunderbird by Mozilla. Thunderbird doesn't come with a calendar, but as I use Google Calendar, this wasn't an issue. Thunderbird was very simple to set up and extremely reliable. It worked perfectly for the whole week. I downloaded 'Microsoft core fonts', which meant the emails I sent used familiar fonts. As a result, I was able to send and receive documents and email, which looked like they were created using MS Office on Windows or a Mac. Thunderbird is also cross platform compatible, so you can use it on a Windows or Mac OSX powered machine.
My only issue was that it felt less intuitive than I would have liked. That said, after a day of heavy use I was able to find whatever I needed, without too much fuss.
Ubuntu word processing
Instead of using Microsoft Word, I used LibreOffice Writer – part of the free LibreOffice office suite. LibreOffice comes with a word processor, a presentation program (similar to Power Point), a spread sheet, mathematics program as well as a database program and drawing program. See below.
I was very pleasantly surprised to find that everything I needed to do, could be done perfectly well on LibreOffice Writer. The Microsoft core fonts I downloaded for Thunderbird were also available as fonts in Writer.
I was reliably able to open Word files from clients and they were able to read the documents I created on LibreOffice Writer too. I exchanged documents with clients of mine, who use both the Windows version of Microsoft office and the Mac version, without any problems.
I don't tend to use tables or advanced formatting in my documents. So, I'm not sure how well Libreoffice Writer would have coped with more complex documents, though it seems able to handle anything a small business owner needs, without fuss.
By the way: LibreOffice can also be used (for free) on Windows and Macs.
Ubuntu and Skype
Skype is available for Ubuntu, but it is less well designed and has some irritating flaws. For example, when you click on a contact's name to see your recent activity with them, it gives you not only their recent history, but your activity with all recent contacts. I found that very frustrating. There has clearly been far less thought applied to the Ubuntu version of Skype, then their version for Microsoft (who own Skype.)
All the core functionality is there, though mystifyingly, they have rearranged the placement of some features, compared to where you find them in the Windows version. Surely it would make more sense to keep things located in the same places?
Skype immediately picked up my Plantronics USB headset and everything worked perfectly, first time. Screen sharing, video conferencing and file sharing all worked. After a while, I worked out where everything was and was able to use it without any problems.
Ubuntu for Twitter, Google+ and Facebook
I am a big Twitter and Google+ user and usually use Google Chrome's Tweetdeck app and Google+ app. This is exactly what I did with Ubuntu and it worked flawlessly. I used the Facebook desktop site via the browser too, which is exactly what I do with Windows. Again, this worked perfectly.
However, I also discovered a very good stand alone Twitter app for Ubuntu, called Turpial. It does everything you need and was 100% reliable. As Tweetdeck for Chrome has very poor multi account functionality, I used Turpial for another of my Twitter accounts throughout the week and loved it.
Also, Ubuntu 13.04 comes with Social Networking features built in. If you wish to, you can monitor your friends activity on social media, via a new 'social lens'. I didn't bother as I wanted to echo my Windows 8 experience for the purpose of this exercise. You can also get Ubuntu to automatically share images you have been working on with your friends, etc.
Ubuntu and Evernote
I am a keen Evernote user and was disappointed to learn that Evernote do not provide a native app for Ubuntu. There are 3rd party apps that allow you to use your Evernote account with Ubuntu, including Everpad. These provide some Evernote functionality. I found myself using the Evernote app for the Chrome web browser, which was extremely good and very fast.
Some users of the Evernote Chrome app mentioned that it doesn't have a print function. So, if you need to print from Evernote, you will need to check out one of the 3rd party apps.
Ubuntu and working with graphics
As the only graphic work I do is for blog images and photo editing, I don't need anything too complex. So, for day to day graphics work I use a web based app called Picmonkey. As it's web based, it worked the same with Ubuntu as it does on my windows and OSX machines. So, no change there at all. Here's my Picmonkey review.
If you need more advanced functionality, there are some very solid graphics programs for Ubuntu, including the very popular Gimp, see below. Gimp is packed with features and very well supported.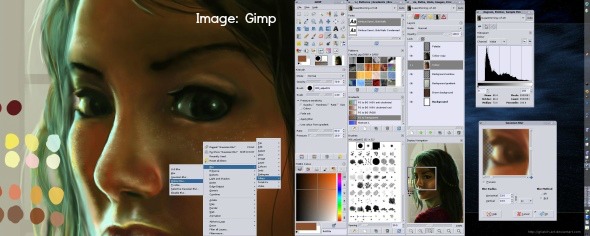 Music while I work
I replaced iTunes with RhythmBox. The reason I needed to include an audio player with my work software, is that I have music on while I work. There are a number of good, mature audio programs for Ubuntu. I chose RhythmBox because I have used it in the past and it seemed pretty good. It also allowed me to subscribe to and listen to podcasts.
Sadly, using it all day as my main audio player, I found it prone to freezing, when doing something as simple as changing a play list or pressing the 'next' button. I looked for fixes but couldn't get it to work reliably. If I stayed 100% Ubuntu, I would try out some of the other audio players. This is a real pity, as I thought RhythmBox was a very good player and it was able to transfer music to my HTC One X android phone with no problem.
Hardware
Overall, there were no serious hardware issues. One big caveat here, is that I run a fully digital office, with very little printing required. Because of this, I had no need to connect to a printer.
My Netgear router was immediately identified by Ubuntu during the set up process and worked perfectly. My Plantronics USB headset worked better with Ubuntu, than it did with Windows 8 as there were more ways to configure it. I was able to connect my Android phone to Ubuntu, without a problem and drag music, video and audio between phone and notebook easily.
I use an external monitor for work and this too was immediately picked up and worked perfectly. External hard drives, thumb drives and SD cards also worked perfectly.
Hardware challenges
I had just 2 hardware challenges using Ubuntu. The first, was getting Ubuntu to work correctly with my notebook's Nvidia Optimus graphics. I followed a number of tutorials on how to fix this, but nothing worked. That said, the Intel graphics were perfect for office-based work and handled everything I threw at it. I'm sure that with some more tinkering, I could get this resolved.
The second hardware challenge I had was to do with battery management. Obviously, I lost the native Samsung hardware management programs that came with the original Windows 8 OS. As such, the Samsung battery life extender was missing, so the machine charges to 100% capacity every time, which eventually reduces the lifespan of the battery. Usually, the notebook can be set to charge to 60% max when left plugged in, increasing the lifespan of the battery. Long term, I would need to remember to turn the external power off during the day. Battery life with Ubuntu was at least as good as with Windows 8.
So, what was my overall Ubuntu experience after 7 days?
It was surprisingly good. Given the few niggles I have mentioned, there is no doubt that I could easily do everything I need for my business work flow, using Ubuntu.
In fact, I have kept Ubuntu on that notebook and have no intention of reinstalling Windows 8. I found not only could I do everything I needed using Ubuntu, there was some extremely useful added functionality, offered by Ubuntu apps that just are not available on Windows. So, Ubuntu will be part of my daily work flow and used daily in the office.
Browser based computing, the cloud and ChromeBooks
With so much work conducted via web browsers and the cloud, any machine capable of running the latest browsers can handle the basic tasks. Ubuntu can do a lot more though, thanks to a massive array of business and productivity programs, many of which are free to download.
Whilst a lot of people are talking about ChromeBooks and the benefits of the Chrome Operating System, in my experience, as the owner of a ChromeBook and several Ubuntu powered machines, you get massively more from Ubuntu. It does everything the Chrome OS does, plus more.
Whereas I use my ChromeBook less and less these days, I am using Ubuntu more and more.
Special mention: The Ubuntu community
This is REALLY important!
One of the most valuable things about using Ubuntu, is the incredible support offered by the Ubuntu community. I have dipped into and out of the Ubuntu community for years, but it wasn't until I needed Ubuntu to handle my entire workload, that I found just how amazing the Ubuntu community is. These men and women are incredible.
I have lost count of the number of people I encountered, who freely offer their time and expertise to answer other people's questions. There is a very strong sense of community among Linux users in general and this is reflected in the Ubuntu community. I was able to quickly find answers to almost every issue I had, in minutes, with just a simple search. I have listed some extremely helpful Ubuntu websites below, but there are many, many more.
YouTube is also packed with step by step guides to doing almost anything you need with Ubuntu. Some of the most useful Ubuntu YouTube channels I found, are also listed below.
At no point as an Ubuntu user do you feel that you are alone with any challenges or problems you have with the OS.
Business class support
Enterprise quality support is also available for a fee, for business users who want or feel they need the additional help. So, whether you take the free option or not, as a business user you're covered.
Useful Ubuntu websites
Here are some very useful websites, dedicated to Ubuntu.
Ubuntu.com: This is where you get the free Ubuntu operating system and also, find lots of answers to common questions.
Ask Ubuntu: This is an essential resource for any Ubuntu user. Not only do questions get answered quickly, the site is extremely well developed, making it easy to locate the best answer for your questions. With over 100,000 questions already submitted to the site, you will often find that the answer you need is waiting for you. It's a fantastic resource.
Ubuntu Forums: A very useful and active Ubuntu community forum. This is another great place to find answers to your Ubuntu questions and keep up to date with all things Ubuntu. The popularity of this forum means you are never left waiting long for answers and feedback, from some extremely helpful people.
OMG Ubuntu: A useful source of Ubuntu related news.
Ubuntu on Twitter: Keep up to date with Ubuntu news and events.
Ubuntu resources on YouTube
Although there are a huge number of Ubuntu users on YouTube, who provide help, tips and advice, I found a guy who calls himself Quidsup, to be the most useful. You can find his videos here. The OMG Ubuntu website also has a very useful YouTube channel, which you can find here.
Otherwise, simply type your Ubuntu related question into YouTube and more often than not, you will find the help you need.
Summary
I went into this 7 day challenge knowing that it would improve my understanding of Ubuntu as a small business operating system. I didn't know how it would perform when working with clients, exchanging documents and conference calling them. I wasn't sure how reliable email would be, considering I get more than 100 emails a day JUST from Jim's Marketing Blog. I had no idea if I would be able to recommend it to my readers, as a low cost alternative to expensive software.
What I discovered was that Ubuntu was capable of far more than I had expected and that many of the compatibility issues people warned me about, were false. Even things like the volume and screen brightness buttons on my notebook and netbook worked.
Which Operating System is the best?
Is Ubuntu better than Windows or OSX? It's not better or worse – it's different.
You use the tools, which best suit your needs and resources. For many, Ubuntu will fit that bill perfectly. This is why I have no hesitation in recommending Ubuntu to you.
Remember, these Ubuntu machines were operating on 100% free of charge software. My other computers are full of expensive software. No, I won't stop using my Windows or OSX based machines for the business. However, I now see Ubuntu as a wonderful new addition to my work flow. It's a virus free, fast, reliable operating system, with hundreds of thousands of useful, free apps.
The Ubuntu community also adds huge value to using an Ubuntu powered machine, because the help you need is always there. Again, free of charge. I made a voluntary contribution to Ubuntu after downloading it, to show my support for the people at Canonical, (the company that produces it). However, this is totally discretionary. The software is 100% free.
Finally, I hope you found this post useful. As you can see, I am very much NOT an expert Ubuntu user. As a result, I am not the best person to ask if you have an Ubuntu related problem. I suggest you use some of the resources I linked to in this post.
PS: This post was written using Ubuntu, as were all my posts over the past week.
Tip: If you found this useful, you can get my latest ideas delivered direct to your inbox, for free, right here.