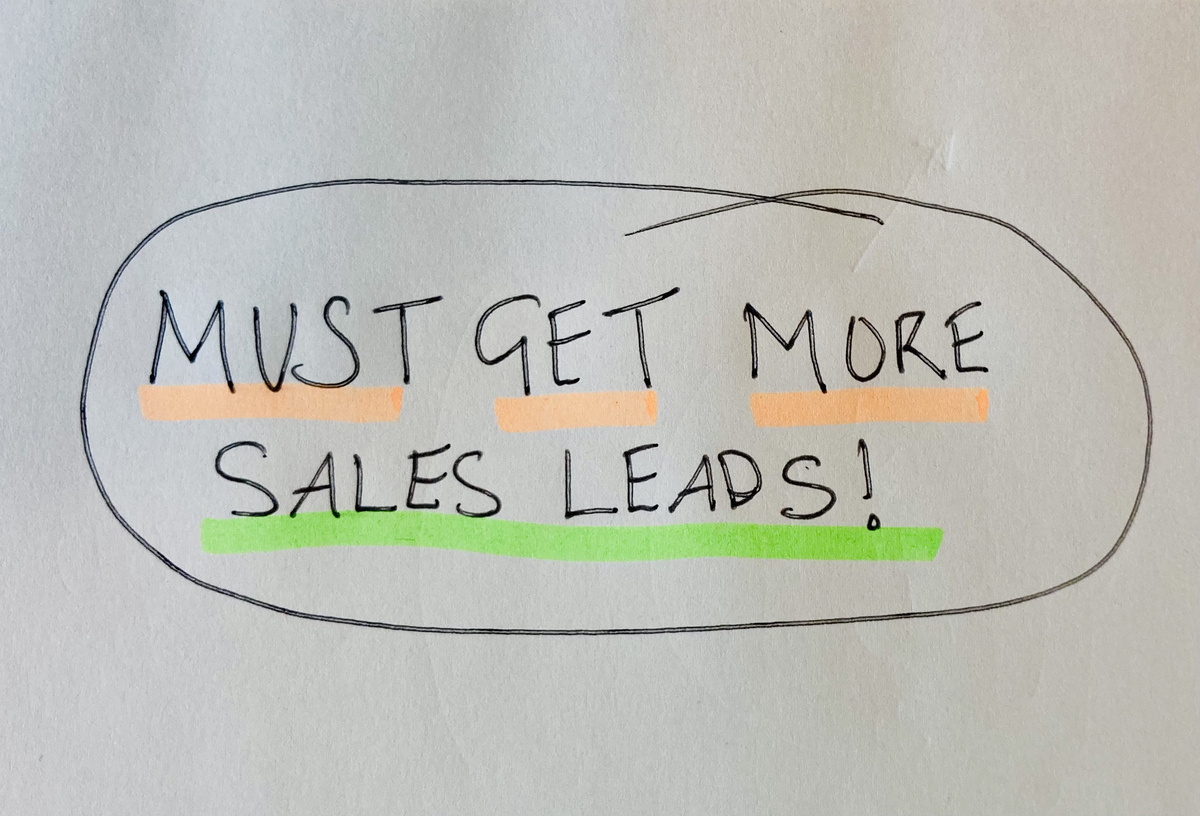 What do you think is the most common problem that business owners ask me to help them with?
It's a version of this: "Hi Jim. I need to get more sales leads (or client enquiries)".
However, in over 25 years of working with business owners, I have never met or spoken to one whose actual problem was a lack of leads.
Their core (or root) problem is always a lot more obvious and a lot more direct. It's THAT core problem, which needs their attention.
In this example, their core problem will be a need for bigger revenues and profits, or a need for more high-value sales, or perhaps a need for more high-quality clients. That's their actual problem. Instead, they are looking for answers to their "more leads" question. And it causes them all kinds of frustrating challenges.

Their incorrect focus points them in multiple, fruitless directions. It also confines their thinking around one, solitary aspect of marketing. And it misses their core problem completely.
For example
When I explain this to business groups, I use the following scenario.
Imagine someone owns a car and notices the smell of rubber whenever they're driving.
Their core problem is not the unpleasant smell of burning rubber.
Their core problem is that something in their vehicle is either burning or drastically overheating.
However, they focus on getting rid of the burning rubber smell.
They decide to drive with the windows open, but that doesn't work.
They decide to buy an air-freshener, but that doesn't work. They then buy a few more and none of them work, either.
They decide to have the vehicle completely cleaned inside and outside. That doesn't work.
They then decide to plug their nose. This gets rid of the smell, but they can taste the rubber in their mouth.
Finally, their smelly car refuses to start. Its electronics have burned out. And their vehicle is trashed.
The answer
Focus on your core problem. Then look for effective ways to overcome it.
Just to get you started, here are some useful questions I came up with (in exactly 5 minutes), to help you redirect your thinking to successfully resolving your core problem. Use them as a starting point and add your own great questions.
What adjustments can I make to my product or service, which will open it up to a new, massively profitable marketplace?
Who has already achieved what I need to achieve, and how can I get them to show me the way forward?
How can I increase my average customer spend by XYZ%, starting next week?
What new, high value services can I provide to my existing clients?
How many ways can I think of, to increase my referral rate by XYZ%?
How can I motivate customers to buy from me more frequently?
What 5 money making lessons can I learn from (insert name of a successful company outside your industry)?
What are the best ways I can find to radically improve my client / customer retention rate?
Who are the people that my marketplace already trusts, and what's the best way to get to know these trusted people?
And yes, one question would be, "how can I get more high quality sales leads"? One question. Just one.
Think about that, as you look at your marketing goals and business targets.
**
I can help you build a massively more successful business, increase your sales, boost your profits and you'll really enjoy the process too.
Here's how it works
.