Maybe you need to attract more clients or customers.
You may want to develop a residual income stream, where you develop something once and earn a repeat income from it… over and over again.
It might be that you'd like me to review your website / blog and show you how to turn it into a goldmine for your business.
It could be that you want some actionable answers, tactics or strategies for one specific problem.
Your business may have reached a plateau and you now need to take it to the next level.
Perhaps you want to know how to differentiate your business, so you no longer have to sell based on fees.
Or maybe you want to solve a major business problem, with the assistance of a world renowned marketing and business development specialist.

Those are just a tiny number of areas, where I can give you the actionable answers, tactics and strategies you need. This service is fast, effective and fully guaranteed. That's right – it's 100% risk free to you. So, you can pick my brain with total peace of mind.
Here's how it works
Simply request a Marketing Results Session, using the form below. Then, we'll confirm the date, time and payment details for your 2 hour session, (which is conducted via Zoom, Skype or phone).
During our call, I will provide you with the most effective ideas, answers and insights I know. I'll help you with strategies, tactics… whatever you need. I will also help you identify new opportunities and help you avoid costly mistakes.
You can rely on me to be both honest and human. I speak in plain English and offer workable answers, gained from over 20 years of success, helping business owners worldwide.
It's risk free!
I want you to have 100% peace-of mind. So, if you don't believe that the ideas, answers and insights I give you during our session are worth more than the fee, I will give you your money back! Just let me know at the end of our call. That's it. Simple. Your satisfaction is guaranteed.

Whatever you want to achieve with your business, I believe I am perfectly placed to provide the help you need.
If you don't already know me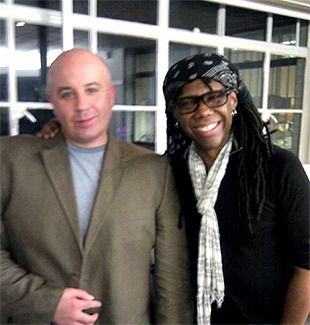 I'm best known for helping small business owners, however I've worked with amazing people from some of the largest companies in the world, here's just a few:
Disney, Barclays Bank, Microsoft, AWD PLC, HSBC Bank, Mitsubishi and Eurostar. I also worked with many outstanding artists. These include music legend Nile Rodgers, on the UK publicity for his autobiography, 'Le Freak'. (That's us on the right). Nile is one of two Grammy award winners I've worked with, the other being songwriter / producer, Bruce Elliott-Smith.
I've also been featured in many of the world's best known media outlets, including; The New York Times, Good Morning America, ABC News, Time, The Wall Street Journal, The BBC, Market Watch, Mashable and many others. I also write about small business marketing for Microsoft.
How to book your session with me
It's really easy. Simply use the form below to request your 2 hour session with me. I will reply by email within 24 hours. Then, we'll confirm the date, time and payment details, plus I'll send you your questionnaire.
The fee is just $319 [or £199 +VAT UK]. I work with clients world-wide and to make paying easy, you can pay using PayPal, credit card or debit card.
Remember, if you believe that the information I have given you during our session isn't worth more than the fee, tell me at the end of our call and I will refund your fee. (I'm proud to say that no one has ever asked for a refund).
For more information, simply use the form below. I look forward to hearing from you!