I can help you improve your sales results fast, with my extremely popular Pick My Brain service. It's so effective, that it comes with a full 100% MONEY BACK guarantee.
Here are just some of the ways I help businesses to thrive.
I can show you how to quickly increase your revenues and profits. I can also show you how to; attract more clients and/or better quality clients, boost your sales, increase the profit of every service you provide (in ways your clients will love). I can show you how to eliminate or greatly reduce what you spend on advertising, and how to get your services noticed even in highly competitive industries. I can also show you how to get vastly better results from your website, blog or newsletter. And much, much more.
Here's how it works
You tell me what you want me to help you with. It can be anything connected to marketing or sales (not just the few examples above). I will then help you with the answers, ideas, tactics… whatever you need.
In short, you bring me your problem, I resolve it with you. And our session will be on whatever platform you prefer, Zoom, phone, Skype, Facetime, etc.
The fee and your 100% money-back guarantee!
The fee for your 2-hour Pick My Brain session is just $189 US (or £189 + vat UK). To make paying easy, you can pay using PayPal, credit card, debit card or bank transfer.
To make it even easier for you, it's totally risk-free!
If you don't believe that the ideas, answers and insights I give you during our session are worth more than the fee, I will give you your money back! Just let me know at the end of our session. That's it. Simple. Your satisfaction is literally guaranteed. (I'm proud to say that no one has ever asked for a refund).
Whatever you want to achieve with your business, I believe I am perfectly placed to provide the answers you need.
If you don't already know me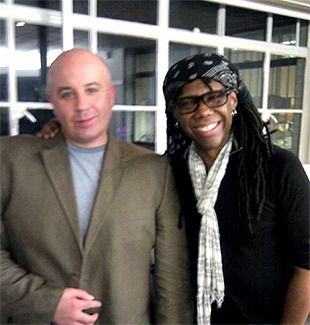 I'm best known for helping small business owners succeed. However, in the 27 years since starting my business, I've also worked with amazing people from some of the world's best-known brands. Here are just a few.
Disney, Barclays Bank, Microsoft, HSBC Bank, The BBC, Twitter and Eurostar. I also worked with many outstanding artists. These include music legend Nile Rodgers, on the UK publicity for his autobiography, 'Le Freak'. (That's us on the right). Nile is one of two Grammy award winners I've worked with, the other being my longtime friend, songwriter / producer, Bruce Elliott-Smith.
I've also been featured in many of the world's best-known media outlets, including; The New York Times, Good Morning America, ABC News, Time, The Wall Street Journal, The BBC, Mashable and many others. I also write about small business marketing for Microsoft.
Here's what happens next
It's really easy.
Simply use the form below to tell me what you want me to help you with. The more detail you provide, the better I can help. I will reply by email the same day.
If I know I can help you and you want to proceed, we arrange the best time and date for your 2-hour session, and the easiest payment method for you.
Finally, before our session, I will send you a brief questionnaire, to help us achieve as much as possible during our time together.
That's it!
Remember, if you believe that the information I have given you during our session isn't worth more than the fee, tell me at the end of our call and I will refund your fee. You have everything to gain, and literally nothing to lose!
I look forward to hearing from you.