You work hard: Here's your chance to get the rewards you deserve!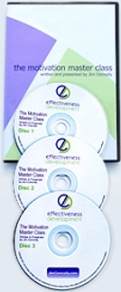 To succeed in business, you need to know how to motivate the people you meet, call and network with; so that they buy from you and happily recommend you to their contacts and friends.  This skill is a key requirement for business success and it's used by every top achieving businessperson I have ever met or studied.
But you still need something extra!
You also need to know how to motivate yourself to get things done.  The top people in every industry or profession are dynamic; and you too need to know how to tap into all that boundless energy.
The great news is, in this superb audio program, international marketing specialist Jim Connolly will show you how to easily achieve all of this and transform your results for ever.
"When it comes to results, Jim Connolly is a legend!"
Grammy Award-winning Writer & Producer; Bruce Elliott-Smith
The motivation secret behind the world's top achievers
In The Motivation Master Class, Jim will show you how to develop the most valuable attribute in business; the ability to motivate other people and yourself. This superb audio program, which runs for 111 minutes, is considered by many to be the most powerful development program anywhere!
For example, you will learn a self-motivation technique that will show you how to get things done, even things you hate or dread – every single time and for the rest of your life.  This super-valuable technique alone is worth many, many times more than the price of the program!
All the help & support you will ever need
There's no such thing as a 'self-made' person; we all need the help of others in order to succeed.  That's why in 'The Motivation Master Class', Jim will show you four easy to use techniques, for motivating other people so you can get all the help and support you need, whenever you need it.
People on every continent have been using Jim's Motivation Master Class successfully for years.  These include; business owners, salespeople and thousands of others, who simply wanted to learn how to become massively self-motivated and how to motivate other people.
"I hated making cold-calls and starting conversations with strangers at networking events – now, thanks to this amazing program, I do both effortlessly! My sales have literally tripled! This program has changed my life Jim!"
Tom Matthews, Sales, Insurance / Financial Services
Blow the lid off your potential
Here are just some of the things you will learn, when you listen to The Motivation Master Class:
How to massively increase your sales; by learning how to motivate your clients and potential clients to buy from you and recommend you!
How to motivate yourself to get things done, even things you hate or dread – every single time!
How to develop contacts with the most powerful and influential people in your industry!
How to develop the unstoppable dynamism that is required for success at the highest level – and do it in MINUTES not weeks or months!
How to motivate potential investors; so you get the backing or investment you need!
How to motivate your colleagues so that they WANT to help you!
Employers and Managers; learn how to get the willing cooperation of your staff and massively boost morale at the same time!
How to eliminate time management problems; by motivating yourself to start and finish any task, even ones you hate of dread!
… and much, much more!
"Affirmations didn't work. Hypnosis didn't work but The Motivation Master Class  DID! I feel like a new person Jim, and can do things effortlessly today that just a week ago seemed impossible. . .The Motivation Master Class is the best program I have ever used!"
Suzanne Colgan, Sales Director, Recruitment
This program is not about affirmations, hypnosis or chanting – it's about showing you how the most dynamic and self-motivated people in the world motivate themselves and the people around them. This is your chance to learn what many consider to be the master skill behind all business success, and at an incredibly low price – so don't miss out!
A great investment
This amazing program was previously available as a three CD box set, which sold for £39.99, or as a download, which sold for £14.99.
However, you can download your copy RIGHT NOW for just (wait for it) £5.75!
That's right, you can be listening to this amazing program in minutes, and for a VERY discounted price.  This is our lowest ever retail price for this program!

Your total peace of mind
Rest assured that ordering with us is safe, secure and simple.  Your credit card / debit card payment will be processed by the Internet's biggest payment provider, Paypal – Using their secure card payment terminal.  So, you can enjoy total peace of mind when you place your order.
Simply press the Buy Now button to download YOUR copy of The Motivation Master Class at the reduced price of just £5.75!