As you may know, I've been on holiday for the past 8 days.  Because blogging is such a valuable part of my communications strategy, it was important for me to be able to maintain my blogging pattern, whilst I wasn't here.
This post is all about how wordpress' scheduled posts feature allowed me to have a fresh post here for you each day – even though I was holidaying with my family, and why scheduling posts can be so valuable for business bloggers.
WordPress' Scheduled Posts feature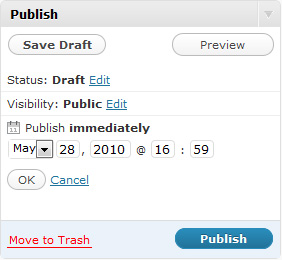 Like many people who blog regularly, I often write several blog posts at once and then use wordpress' scheduled post feature, to publish my posts over the coming days.
This is always a really useful feature, but when you are away from work and, as in my case, away from an Internet connection too, it's pure gold dust!
Why bother posting when I'm not here?
There are a number of reasons, why it makes sense for business bloggers to maintain the regularity, with which they post.  I mention most of them here, in "why some bloggers post every day."
However, on a very basic level, I have found that just as people get used to visiting a blog regularly, they can also get used to NOT visiting that blog just as easily.  This simple, long established feature of wordpress means that so long as you have the content written up, a blogger never needs to have those 7 or 14 day gaps, where they drop from their reader's radar.
Do you use scheduled posts?
Let's work together and grow your business. To find out more click here!
The Marketing Mentor Program:
I'll show you exactly what you need to do, step-by-step, to boost your sales, increase your profits and build the business you've always wanted. Then, I'll work alongside you to make it happen.
Here's how it works
.