From as early as I can remember, I have boxed. It was a popular sport in the rough area of London where I grew up and a way for poor kids to channel their energy into something better than crime and drugs. Today, I'm a 46 year old successful business owner and I still get the gloves on a couple of times a week.
Punch bags don't hit back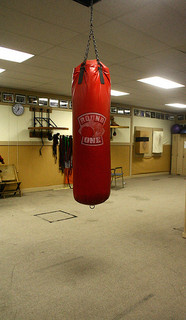 One of my trainers had a fantastic phrase he used occasionally in the gym. He used it to describe people who loved to grunt and scowl as they worked on a punch bag, but who wouldn't get in the ring and fight. He used to call them punch bag heroes. As he said, anyone can look tough hitting a punch bag, because the bag just soaks up the punches and doesn't throw concussive punches back at you.
Blogging and punch bag heroes
When I started blogging, I quickly figured out there were lots of blogging equivalents of punch bag heroes. I found bloggers who would refuse to give their readers the power to question them, by deleting comments that disagreed with them.
A few weeks ago, I had a big problem with spam comments to this blog. I was getting around 2,500 a day. One of the options open to me was to turn comments off. It would have saved me time and completely eliminated the problem. The reason I decided to do whatever was required, in order to leave comments enabled, was that I figured out it was a cowardly option.
Here's why:
Turning comments off would have refused you the right to have your say.
It would have stopped you being able to publicly question what you read here, where the rest of the blog's community can see it.
It would have made me a blogging equivalent of a punch bag hero.
So, the comments are staying on here for as long as this blog exists!
Blogging or broadcasting?
It's easy to publish anything, when you know your words will never be challenged within your own tribe, because you delete comments that disagree with you or because you refuse your readers the right to question you in public, by turning comments off. However, it takes courage to open yourself up to critics and allow people the freedom to question what you say, where you know it will be seen by your readers.
What do you think?
I believe a conversation based, accountable approach to blogging helps a person improve the quality of their work and the value of their blog.
Photo: Crustina